This is He is Me.
This is what happens when Portland collaborates with Alberta. When Canada sends some of their good stuff to the US… yeah… you know what I'm talking about.
But it is agitated like the gloomy weather that plagues both climates. A dark force that locals have been harnessing into a fierce artistic beauty even before the world heard a couple of chords being hammered through a cheap amp out of Aberdeen.
It is the product of two men. Casey Braunger is a musician, producer, and songwriter. Steve Moore is a songwriter and vocalist. Together, He is Me create tension filled music. Music that threatens with a long, continuous stare… before it calls your bluff and erupts in a swirling challenge, drenched in tribal chants, howls, and a summoning of spirits yet to be named.
Their latest creation is a crawl and assault called, 'Drowning Man/Ocean Man'.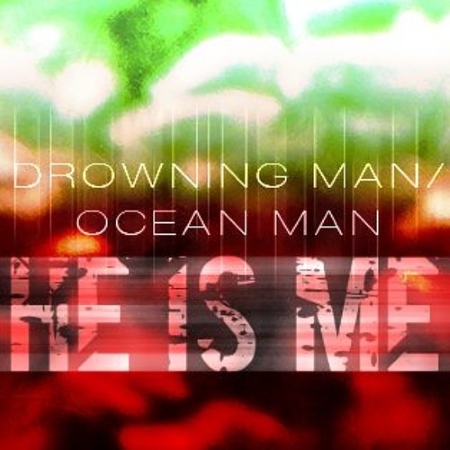 A work that is broke into two distinct movements. The first part is a nervous Joy Division meets an industrial Bauhaus. Minimal, lonely bass lines, slowly build as they let the uneasy vocals. '… the water's warm says the drowning man…'. Often cryptic, while painting quite clear images with his vocals, Moore seemingly takes delight in offering glimpses, quick flashes of imagery the listener is left to decipher. '… seal the flesh of obedient lamb… hold my body in the hologram… I'm nothing pure… I am…'
The second part is the after the drowning man has passed into and has become the ocean. And the ocean, is a churning, dark, ambivalent force of nature. Tool-ish in the tribal flows, but pushed by the ragged, manic, wide-eyed presence of Moore.
Cast upon your own ears:
This is actually the second 'single' release from He is Me. The first was called, 'Let It Drip', a more menacing stomp of mechanics, synths, and a slightly more reserved, but no less shadowy Moore on vocals.
Both musicians are quite prolific with other successful projects with which they are involved. Moore has gained notoriety with the metal band Unravelling and Post Death Soundtrack… all collaborative projects involving higher caliber musicians of varying influences. Braunger has been releasing music under his own imprint of Textile Arcade.